KADScan MULTIPOINT GAS MONITORING AND CONTROL SYSTEM FOR MID TO LARGE SCALE INSTALLATIONS


Viking Technologies is pleased to announce that Viking Technologies Ltd. is now the official distributor of KADA Industries KADScan products in Alberta as well as B.C. Contact Mike for more info on this amazing technology! 604 298 6453​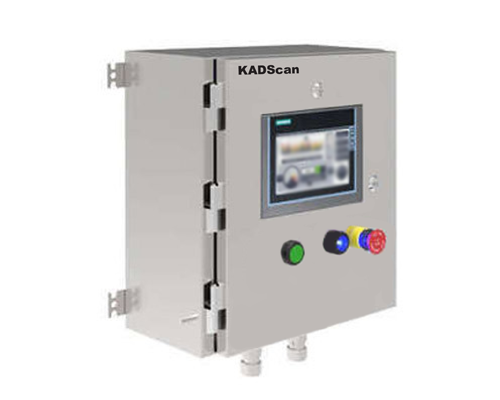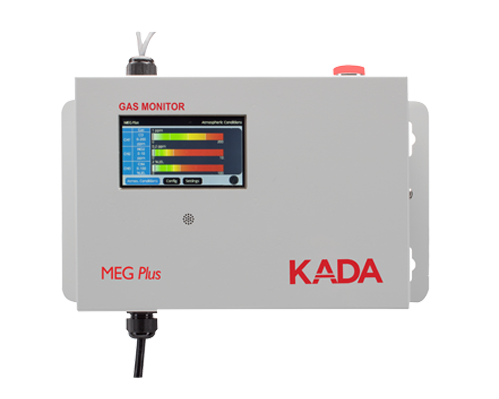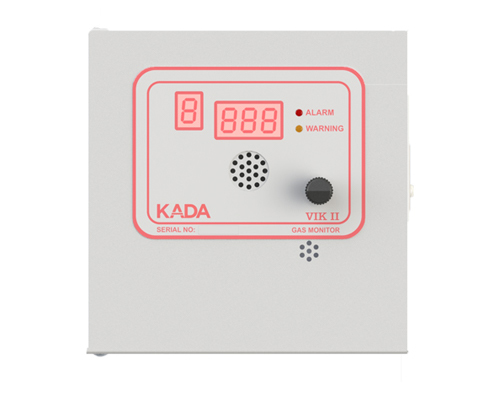 KADScan:
128-channel (expandable) controller for multi-drop systems featuring touch PC (HMI) and job-specific logic controls for on-off and/or VFD fan activation and other peripherals.  Fully programmable, KADScan is ideal for medium to large-scale installations.
VIK II:
Standalone low-cost dual channel gas monitor (chan 1 integral, chan 2 remote) featuring digital readout of sensor readings, relay outputs for WARNING and ALARM, high dBA alarm buzzer with kill switch, 4-20mA analog output (peak or average) for VFD control,  Modbus RTU/RS485 serial communication for network integration.
VIK II is a fail-safe device and fully programmable via a user-friendly interface; it is ideal  for small scale installations.
MEG Plus:
Standalone cost-effective three channel gas monitor (chan 1 integral, chan 2 & 3 remote) featuring a large touch screen display for sensor readings, configuration and setup.  Has 3 relay outputs for WARNING, HIGH and ALARM and a built-in alarm buzzer, four  4-20mA analog outputs (one for each channel and one additional for peak or average),  Modbus RTU/RS485 serial communication for network integration. 
MEG Plus is a fail-safe device fully programmable via an intuitive user interface; ideal  for small scale installations.
KADScanMULTIPOINT GAS MONITORING AND CONTROL SYSTEM FOR MID TO LARGE SCALE INSTALLATIONS

FEATURES
• SCALABLE DESIGN, SUPPORTS UP TO 128 SENSORS
• RS485 MULTI DROP SERIAL INTERFACE BETWEEN SENSORS AND CONTROLLER
• TOUCH PC HMI FOR QUICK SYSTEM VISIBILITY AND CONFIGURATION
• CUSTOMIZED FAN ACTIVATION LOGIC VIA 10A RATED RELAYS LOCATED INTEGRAL OR REMOTE TO THE CONTROLLER
• 4-20MA OUTPUTS FOR VFD CONTROL
• BUILT-IN AUDIBLE ALARM WITH KILL SWITCH
• FAIL-SAFE
• DATALOGGING (OPTIONAL)
• FAN OVERRIDE TIMERS (OPTIONAL)
• DATA-LOGGING (OPTIONAL)
• BACNET INTERFACE (OPTIONAL)
APPLICATIONS
• PARKING GARAGES, LOADING DOCKS
• VEHICLE MAINTENANCE FACILITIES
• CAR DEALERSHIPS
• INDOOR SPORTS COMPLEXES/ARENAS
• HOSPITALS, AMBULANCE BAYS
• AIRPORTS, FIRE STATIONS
• WAREHOUSES
• CHEMICAL STORAGE ROOMS
• BOILER ROOMS, BATTERY ROOMS
• GREENHOUSES, WINERIES
• LABORATORIES
• FOOD PROCESSING PLANTS
VIK IISTANDALONE DUAL-SENSOR GAS MONITOR FOR TOXIC AND COMBUSTIBLE GASES
DescriptionThe KADA VIK II is a compact standalone gas monitor with one integral and one remote sensor. VIK II is a fully programmable easy-to-use product with key industry-specific features. VIK II offers a smart cost-effective solution for your gas detection needs in small scale installations. VIK II has 2 SPDT relay outputs for WARNING and ALARM with separately programmable set points for each sensor. The relay outputs of the VIK II may be used to turn on supply/exhaust fans, open motorized dampers and activate remote strobe/horns.VIK II FLEXIBLE AND PRACTICAL, EFFICIENT AND COST-EFFECTIVEVIK II also has an analog 4-20mA output that represents the peak or the average reading of the 2 sensors. This output can be used to control VFD fans, actuators or signal the BAS.Although shipped as a "plug and play" device, VIK II allows the user to make field-modifications easily via a rotary encoder.VIK II is housed in a robust NEMA 1 metal enclosure with a hinged door and tam-per-proof screws; optionally it can be ordered with a splash-proof cover or a protective guard.
FEATURES

• 2 SENSOR INPUTS (1 INTEGRAL + 1 REMOTE)
• PRE-CALIBRATED PLUG-IN SENSOR (SENSOR 2)
• USER-FRIENDLY INTERFACE VIA BUILT-IN ROTARY ENCODER AND DIGITAL DISPLAY
• 2 SPDT 6A RELAY OUTPUTS FOR WARNING AND ALARM
• HIGH DBA ALARM BUZZER WITH KILL SWITCH
• 4-20MA OUTPUT• FAIL-SAFE
• FAN-OVERRIDE TIMER (OPTIONAL)
• MODBUS RTU / RS485 SERIAL COMMUNICATION (OPTIONAL)
• DATA-LOGGING (OPTIONAL)
APPLICATIONS•
PARKING GARAGES, LOADING DOCKS
• VEHICLE MAINTENANCE FACILITIES
• CAR DEALERSHIPS
• INDOOR SPORTS COMPLEXES/ARENAS
• HOSPITALS, AMBULANCE BAYS
• AIRPORTS, FIRE STATIONS
• WAREHOUSES• BOILER ROOMS, BATTERY ROOMS
• GREENHOUSES, WINERIES
• LABORATORIES
• COMMERCIAL KITCHENS